Finally, a college prep book that actually prepares students for college!

"The book. . . teaches the reader how to learn better. It's a worthy endeavor and a valuable one for those industrious enough to make their way through these chapters. . . Those who do will undoubtedly have a leg up in their first semester.
A functional, low-frills guide to critical thinking for rising college freshmen."--Kirkus Review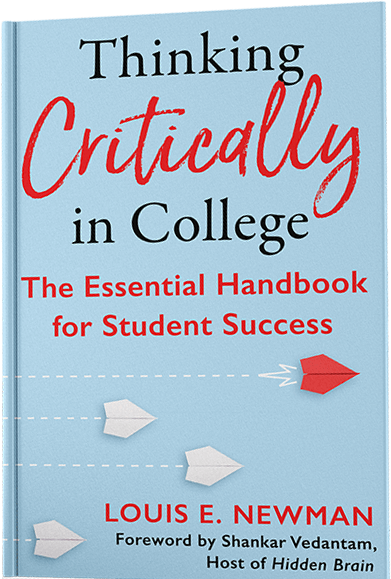 Nearly every first-year college student discovers that college courses are more academically challenging than they expected, and certainly harder than classes in high school. Professors expect students not just to absorb material, but to analyze and synthesize it, to consider multiple perspectives, to evaluate conflicting evidence, and then to apply what they've learned in new contexts.
Thinking Critically in College explains how to do all this and more.
Unlike most college prep books—which advise you to go to office hours, get enough sleep, take good notes, and learn how to get along with your roommate—this one actually shows you how to do the work your professors will assign and explains how to tackle common academic challenges. This accessible and comprehensive handbook covers metacognition (thinking about how you think); basic critical thinking skills; college-level reading, writing, and quantitative reasoning; how to think about academic disciplines; decoding actual assignments from college courses, and tackling research projects.
Lee Cuba, Professor Emeritus of Sociology, Wellesley College, and author of Practice for Life: Making Decisions in College
Written in a personal, engaging style that draws on the author's experience as a professor and academic advisor for nearly forty years, Thinking Critically in College is an indispensable guide to doing the work of college for students from all academic backgrounds.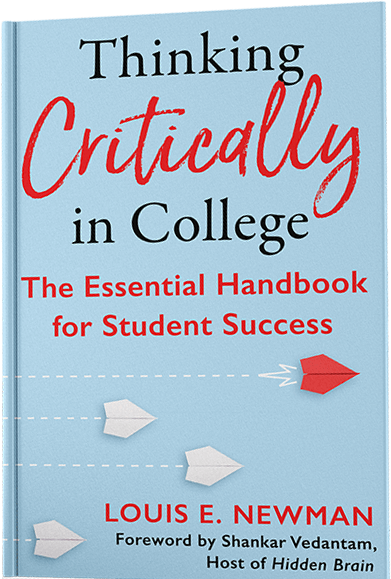 Order your copy of Thinking Critically in College now through
Praise for Thinking Critically in College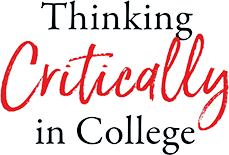 This book provides the guidance students really need to succeed academically. Ideally suited to courses for college-bound high school and first-year college students, Thinking Critically in College is the go-to handbook for instructors and all those who support college student success. With its emphasis on developing critical thinking skills, the text also encourages students to look at their college experience broadly, as preparation for a lifetime of learning and civic engagement. Practical, accessible, comprehensive, and interactive–Thinking Critically in College is the resource you've always wanted to promote your students' learning.
Most students are incredibly stressed about getting into college.
Actually, that's the easy part.
The question is —
Who will give you the advice and support you need once you're there?
As a college student, you'll face a wide range of challenges–
What should you major in, and what if you want to change your major?

You just got the worst grade in your life and you're not sure how to regain your academic confidence.
You think you're entitled to an exemption from an academic policy, but don't know whom to ask.
You can't decide whether to… join one more club, go on an off-campus program, or apply to grad school right after college…and need some perspective.
You missed two weeks of class and now don't know if you should drop the class, change your grading option, or just power through.
You need a recommendation letter for an internship, but don't know how to approach your professor for one.
You're dealing with a personal crisis and don't know whom to talk to.
Throughout your college career, there will be many times when you need advice and mentoring from someone who knows your name and your story.
About your College Success Coach:
Louis Newman was the Dean of Academic Advising and Associate Vice Provost for Undergraduate Education at Stanford University. He is also the John M. and Elizabeth W. Musser Professor, Emeritus at Carleton College, where he has taught for thirty-three years. Most recently, he is the author of Thinking Critically In College: The Essential Handbook for Student Success (Radius Book Group). In addition to being a renowned scholar in his field, Newman has a lifelong passion for improving undergraduate education. Throughout his long career, he has been praised by colleagues and students alike for the profound impact he has had on their learning and their lives–as a gifted teacher, trusted advisor, and mentor.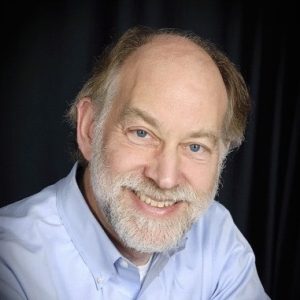 Individualized assessment of your strengths and challenges, along with personalized advice on how to make the most of your college experience. Initial session includes extensive guided self-assessment, review of your high school transcript, goal-setting exercises, and orientation to college. Initial 2-hour intake session: $500; subsequent sessions: $350/hr.
Be ready to hit the ground running with this four-session workshop that prepares you for the academic challenges you'll face in college. Covers self-reflective learning, critical reading, writing as a tool for thinking clearly, quantitative reasoning, disciplinary thinking, parsing your assignments, and tackling research projects. Interactive assignments and reflective exercises in each session. Includes a free copy of Louis Newman's book, Thinking Critically in College: The Essential Handbook for Student Success. Four 90-minute sessions scheduled on consecutive Sundays in either June or July. $1,800.
Ongoing personalized guidance and support for every step of your college journey. Expert advice for all aspects of academic life: course selection; decisions about majors, minors, and other special programs; planning extra-curricular activities; off-campus study; ongoing assessment of learning goals and progress; leaves of absence; exploring internships; and post-graduation options. Unlimited access to your college coach. Monthly ($500 intake session, plus $500/mo.), semester ($2,500) or annual ($4,500).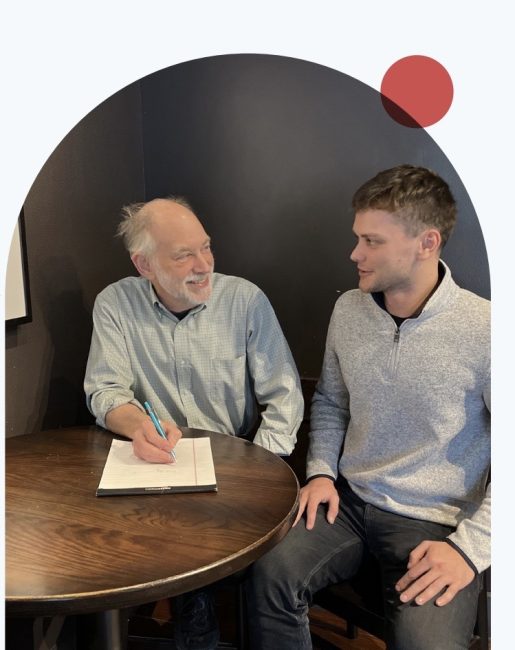 To schedule a free introductory consultation with Louis, contact: [email protected], or complete the Contact Us form located at the bottom of this page.
Dr. Newman is also available for talks and workshops with high schools, parent groups, and other organizations. For a list of topics, see the "Consultation" section of this website.
For a shareable brochure containing information about Louis's College Success Coaching, click the button below.

What Louis'S Former Students Say:
"You always put me at ease and offered sage and realistic advice."
"With Louis, I can see what it means to put moral ideals into practice. . .what it means to be an advisor and teacher and moral guide."
"During a time of life when I was often lost in abstractions, you consistently and gently pointed me back to my relationships with people and to being part of a community."
"I will always be indebted to you for your endless knowledge, wisdom, kindness, and advice. Most of all, your warmth and guidance as a mentor helped shape me into the person I am today."
"Louis was (and continues to be) a compassionate and empathic mentor and advisor. During a particularly tough time. . . Louis was helpful, caring and understanding. I will never forget how carefully he listened to me and how kind his words were during that time."
LOUIS NEWMAN IS AVAILABLE FOR CONSULTATIONS AND SPEAKING ENGAGEMENTS
For teachers of first-year college students and administrators of college success programs:
"Preparing Our Students to Succeed in College"
What academic skills do our students need to do college-level work? (Hint: doing well in high school probably isn't sufficient). In this session, we introduce the key critical thinking skills students really need to become independent, lifelong learners.
"Help Them to 'Step Up Their Game' by Explaining What Game They're Playing" 
Every assignment we give is an opportunity to help our students hone their critical thinking skills.  In this workshop, we'll explore ways to make these skills more explicit in the way we craft assignments, so students can identify and internalize the competencies we expect them to master.
"The GPS System Every Student Needs to Navigate College"
For most of our students, college is unfamiliar, for many it is challenging, for some it is intimidating. In this session, we'll consider how to provide the conceptual roadmap students need to make sense of new subjects, new academic expectations, and new opportunities.
For learning and teaching specialists:
"How to Center Critical Thinking in Everything We Teach"    
Faculty want their students to think critically but may not know how to impart these skills through their assignments or their pedagogy. In this session, we'll identify the core components of critical thinking and explore how these can be woven into the structure of our courses, our assignments, and our feedback on student work.
 "Cultivating Metacognition in Our Students"
We all want our students to become better learners. Here are some simple techniques to help them identify how they think, and how they can become more self-aware about their own learning processes.
For University leadership:
"Why Our Students Can't Think Critically, and What We Can Do About It"
Faculty complain that students don't know how to analyze the material they assign, and students complain they don't understand what faculty expect of them. The solution to this longstanding impasse may be simpler than we imagine. 
"The Perennial Challenge of Higher Education:  Creating Critical Thinkers"
Our mission is to give students the critical thinking skills they need to complete their coursework and to become lifelong learners. But if it were that simple, we'd be more successful at it than
studies suggest we are.  This talk addresses some strategies for centering critical thinking throughout the curriculum, and beyond.
"Critical Thinking—What it Means and Why it Matters"
Critical thinking has been defined in many different ways. What skills are we actually trying to impart to our students and how can we ensure that they get them? Our success as educators depends on getting this right. And there is probably no time in our history as a nation when the stakes have been higher.
For college access programs and instructors of first-gen students:
"Beyond Belonging:  Critical Thinking Skills as Key to Self-Esteem, Persistence, and Academic Success"
We know that our students need a sense of belonging to succeed in college. But to really gain academic self-confidence they also need to understand specific critical thinking skills and practice using them. Here is how to prepare them for the challenges ahead and give them the tools they will need to get academically engaged and stay the course.
"Learning How to Learn": The Most Important Course is the One You Will Never Take"
College is all about learning how to learn more effectively. But most schools never specifically identify the strategies students need to do this.  This talk covers the essentials of metacognition and effective study strategies that every student needs to know before they can really tackle all the other work they need to do.
"Developing Relationships with Your Professors:  What Every Student Needs to Know"
Most students think college is all about completing the coursework and getting good grades. But cultivating close relationships with faculty is the best way to get the most out of college and to build the connections that will lead to post-graduation opportunities. Come learn how to engage effectively with your faculty and discover how many doors they can open for you.